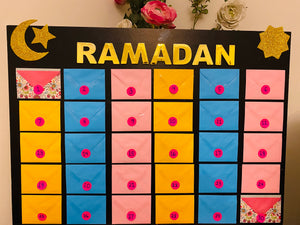 Free Download - 30 Day Ramadan Challenge
✨30 Day Ramadan Challenge🌙
Print this 30 Day Ramadan Challenge and cut the challenges into strips of paper.
Make a Ramadan Calendar Board, with a small envelope for each day of Ramadan, and hide a challenge in each envelope. For every day of Ramadan, the kids get a challenge. 

In each envelope, there's a a task for each child. Kids love a challenge and they will anticipate the new activity each day, and hopefully will be motivated to accomplish it.
Saying a certain dhikr📿 - baking 🧁- doing some research 💡
Tweak tasks according to child's age, the youngest can do 70 istighfar, the oldest can do 500! (We did not include the 5 daily prayers & daily Quran reading because that is a given and is not considered an extra challenge.

Design your challenge board and please share a photo with us on Instagram @faithful.kids or email us at faithfulkidsfun@gmail.com. We'd love to see your masterpieces!🎨